Tuesday is International Women's Day, an important official holiday in Russia and Ukraine dating from the Soviet era. Women are normally feted with flowers and chocolates and speeches, but this year the holiday was overshadowed in Ukraine by war, and in Russia by economic chaos.
Sugary messages of love and support were shared on social networks as in previous years, but many were tinged with sorrow or pleas for peace.
Ukrainian President Volodymyr Zelenskyy opened his morning video address Tuesday saying: "Ukrainians, we usually celebrate this holiday, the holiday of spring. We congratulate our women, our daughters, wives, mothers. Usually. But not today."
"Today I cannot say the traditional words. I just can't congratulate you. I can't, when there are so many deaths. When there is so much grief, when there is so much suffering. When the war continues," he said.
___
BRUSSELS — NATO Secretary-General Jens Stoltenberg says Russia's armed forces may be deliberately targeting civilians as they try to flee the military assault on Ukraine.
Stoltenberg said Tuesday "there are very creditable reports of civilians coming under fire as they try to evacuate. Targeting civilians is a war crime, and it's totally unacceptable."
He told reporters in Latvia that the humanitarian impact of the almost two-week long war "is devastating."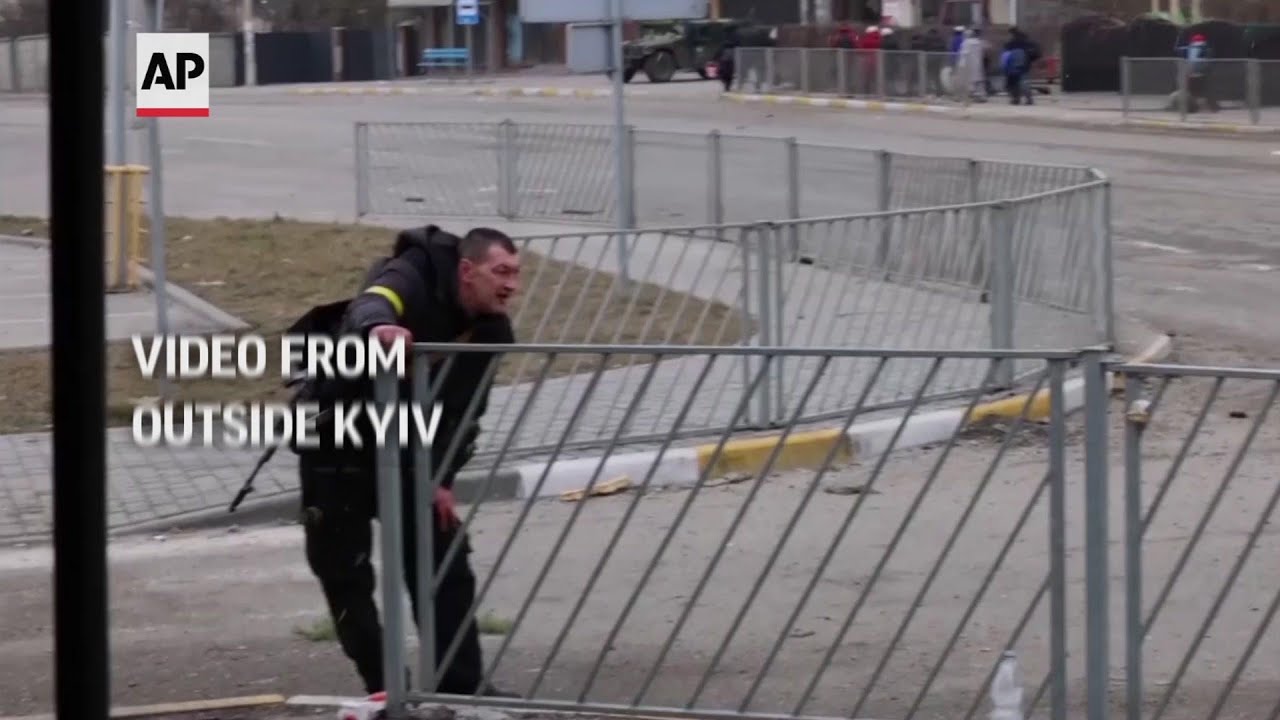 "We need real humanitarian corridors that are fully respected," he said.
Asked what NATO can do to help, Stoltenberg said: "We have a responsibility to ensure the conflict does not spread beyond Ukraine." NATO is boosting its defenses to ensure that members near Russia and Ukraine are not next on Moscow's target list.
___
KYIV, UKRAINE — Ukrainian Defense Minister Oleksiy Reznikov has released new estimates of casualties and damage from the Russian war, saying Russian military actions have killed 38 children and wounded more than 70.
Overall at least 400 civilian deaths have been recorded and 800 wounded, though "these data are definitely incomplete," he said in a video address.
It was not immediately possible to verify the figures.
He said Russian strikes have destroyed more than 200 Ukrainian schools, 34 hospitals and 1,500 residential buildings.
He estimated some 10,000 foreign students, notably from India, China and the Persian Gulf are trapped by the fighting, and described attacks on British and Swiss journalists.
He claimed that Ukrainian forces have killed more than 11,000 Russian troops.
"Russian invaders fire on humanitarian corridors through which civilians are trying to escape," he said, without saying where.
Russian officials did not comment Tuesday and have only acknowledged several hundred deaths among Russian forces.
___
BERLIN — The German federal prosecutor's office is looking into possible war crimes committed by Russian forces in Ukraine.
The prosecutor's office said Tuesday it has launched a so-called "structural investigation" — a preliminary investigation against persons unknown which entails looking for evidence leading to possible suspects who could be prosecuted.
It's unclear whether or when a prosecution of any suspect would actually be launched and what the chances are of any defendant eventually being brought to court in Germany.
Germany applies the principle of universal jurisdiction for serious crimes. In a groundbreaking verdict in January, a German court convicted a former Syrian secret police officer of crimes against humanity for overseeing the abuse of detainees at a jail.
___
BEIJING — China says President Xi Jinping has criticized sanctions imposed on Russia over its war against Ukraine as "harmful to all sides," in a video summit with French President Emmanuel Macron and German Chancellor Olaf Scholz.
China has largely backed Russia in blaming the U.S. and its allies for provoking the conflict and has abstained in votes at the United Nations over whether to condemn Moscow for its actions.
In its readout of Tuesday's conversation, Chinese state broadcaster CCTV said Xi expressed "anxiety and deep pain" over the fighting, and urged the sides to pursue peace talks in which he said China was willing to play a role.
Xi gave no indication on what sort of resolution China was looking for and the only details he gave concerned the impact of sanctions.
"We want to strive together to reduce the negative effects of the crisis," Xi was quoted as saying. "Regarding the impact of sanctions on global finance, energy resources, transport and supply chain stability, in terms of a world economy already burdened by the pandemic, it is harmful to all sides."
___
LONDON — Britain's defense minister says his staff will help process applications from Ukrainians fleeing war, after criticism of the sluggish U.K. effort to take in refugees.
Britain says it expects to take in as many as 200,000 displaced Ukrainians, and has set no upper limit on the number it will accept. But as of Monday night, the government said only 300 visas had been issued.
French officials have accused Britain of turning Ukrainians away at the English Channel port of Calais, telling them to apply for visas at British embassies in Paris or Brussels.
Defense Secretary Ben Wallace said Tuesday that "we can do more, we will do more" to speed up people's journeys to the U.K.
___
NEW YORK — Russia says it has summoned the Irish ambassador to Moscow a day after a truck was driven through the gates of the Russian embassy in Ireland during a demonstration against the war in Ukraine.
The Russian Foreign Ministry said Tuesday it told Irish ambassador Brian McElduff that Russia demanded an apology from the Irish authorities and for Ireland to pay compensation.
Russia likened the incident to "a tactic widely used by terrorists" and said Irish law enforcement had not acted to stop it. The Irish Times newspaper reported Monday that the driver of the truck was arrested.
___
KYIV, UKRAINE — Ukrainian President Volodymyr Zelenskyy has called for the expansion of humanitarian corridors for Ukrainian civilians fleeing war, and more support from the Red Cross.
In a video address Tuesday from an undisclosed location, he said a child died of dehydration in the blockaded southern seaport of Mariupol, in a sign of how desperate the city's population has become.
He pleaded again with Western countries to provide air support.
He said evacuation buses have been sent to Mariupol, but said there was no firm agreement on the route, so "Russian troops can simply shoot on this transport on the way."
Zelenskiy accused the International Red Cross of "forbidding the use of its emblem on our cars," but did not give details. Videos of buses heading out of Sumy and toward Mariupol have had signs with a red cross on the side but it's not clear who pasted them there.
___
LONDON — Estee Lauder is the latest foreign company to halt its operations in Russia after the invasion of Ukraine.
The New York-based cosmetics giant said in a statement late Monday that it has decided to suspend all its commercial activity in Russia, "including every store we own and operate." It's not clear how many retail outlets it has in Russia.
Estee Lauder also said it's suspending shipments to its Russian retailers and will provide "compensation and support" to its Russian employees. The company owns more than two dozen brands including Clinique, Bobbi Brown and MAC Cosmetics.
___
LONDON — Energy giant Shell says it will stop buying Russian oil and natural gas as well as shut down its service stations and other operations in the country amid international pressure for companies to sever ties over the invasion of Ukraine.
Shell says in a statement Tuesday that it would withdraw from all Russian hydrocarbons, including crude oil, petroleum products, natural gas and liquefied natural gas, "in a phased manner."
The decision comes just days after Ukraine's foreign minister criticized Shell for continuing to buy Russian oil.
___
LONDON — Ukrainian President Volodymyr Zelenskyy is set to address Britain's Parliament — the first time a foreign leader has been allowed to speak in the House of Commons.
Screens and simultaneous translation headsets have been set up in the House of Commons so lawmakers can hear from Zelenskyy at 5 p.m. (1700GMT) on Tuesday.
World leaders have previously addressed British lawmakers elsewhere in Parliament, but not in the House of Commons itself.
Zelenskyy has previously thanked Britain for its support, which includes humanitarian aid and defensive weapons.
___
GENEVA — The U.N.'s top human rights official is warning that a new Russian law allowing harsh punishment for spreading what is deemed to be fake information about the armed forces adds to concern about repressive legislation in Russia.
High Commission for Human Rights Michelle Bachelet told the U.N. Human Rights Council that "space for discussion or criticism of public policies – including (Russia's) military action against Ukraine – is increasingly and profoundly restricted."
Bachelet said some 12,700 people have been "arbitrarily arrested" for holding peaceful anti-war protests and noted that media are required to use only official information and terms.
She said she's concerned about repressive and vaguely defined legislation, and added that "further legislation criminalising circumstances of 'discrediting' the armed forces continues down this concerning path."
The new measure, signed into law by President Vladimir Putin on Friday, allows for prison sentences of up to 15 years. It has prompted some foreign media to suspend operations within Russia.
___
LONDON — Britain's defense secretary says the invasion of Ukraine will be Vladimir Putin's downfall as the Russian leader struggles to defeat and occupy a country that has put up unexpectedly staunch resistance to his armies.
Ben Wallace said Russian forces are already "exhausted" after facing logistical problems and suffering thousands of losses in the first 13 days of fighting. He added it's "an impossible task" to occupy a country of 44 million people that is bigger than France and Germany combined.
"This will be Putin's end … and so it should be," Wallace told the BBC.
Putin is already "a spent force" in the wider world because the international community has decided the invasion of Ukraine and the humanitarian catastrophe it has unleashed are unacceptable, Wallace said. The international sanctions imposed on Russia "are reducing his economy to zero," and Putin is responsible for that, Wallace said.
___
GENEVA — The number of refugees fleeing Ukraine reached 2 million on Tuesday, according to the United Nations, the fastest exodus Europe has seen since World War II.
"Today the outflow of refugees from Ukraine reaches two million people. Two million," Filippo Grandi, the UN High Commissioner for Refugees, wrote on Twitter.
The update came as a new effort to evacuate civilians along safe corridors finally got underway Tuesday. The route out of the eastern city of Sumy was one of five promised by the Russians to offer civilians a way to escape the Russian onslaught.
Michelle Bachelet, the U.N. high commissioner for human rights, is pressing for all civilians trapped by fighting in Ukraine to be allowed to leave safely. She said Tuesday she is "deeply concerned about civilians trapped in active hostilities in numerous areas."
Bachelet also told the U.N. Human Rights Council that her office has received reports of pro-Ukrainian activists being arbitrarily detained in areas of eastern Ukraine that have recently come "under the control of armed groups." She said there have been reports of beatings of people considered pro-Russian in government-controlled areas.
___
TOKYO — Japan says it has suspended the assets of 32 more Russian and Belarusian individuals as part of international sanctions against Russia.
The additional sanctions announced Tuesday target 20 Russians including head of the Chechen Republic Ramzan Kadyrov, deputy chiefs of staff and a press secretary for President Vladamir Putin's govenment, and deputy chairmen of the state parliament. The list also includes business executives with close ties to Putin and his administration such as Volga Group, Transneft, the Private Military Company Wagner and USM Holdings.
The sanction targets also included 12 Belarusian officials and business executives, including Belarus' National Olympic Committee President Viktor Lukashenko, as well as 12 organizations in Russia and Belarus.
Officials said Japan is also banning exports of oil refinery equipment to Russia and general purpose goods to Belarus that could be used to strengthen the country's military capability.
___
WARSAW, Poland — Poland's prime minister is calling for even tougher sanctions against Russia in order to dismantle President Vladimir Putin's war machine.
Prime Minister Mateusz Morawiecki made his comments as he departed Warsaw for visits to NATO countries Britain and Norway.
He told reporters that strengthening NATO's eastern flank and pushing for more sanctions would be the main topics of discussion. In particular, Morawiecki wants to urge other European countries to replace Russian crude oil and gas with deliveries from other countries.
"In order to hit Russia effectively, our blow must be consistent and long-term if military action continues," Morawiecki said.
Poland has been building a gas pipeline, Baltic Pipe, meant to import gas from Norway.
He called Baltic Pipe "a symbol of Poland's sovereignty, of Poland's independence from Russia, from gas blackmail … everything which has made it possible for Putin to build a war machine."