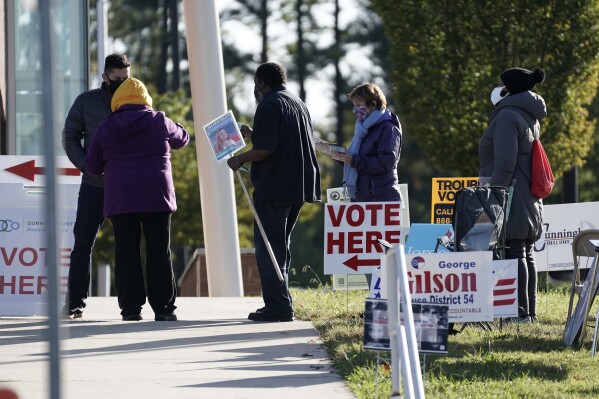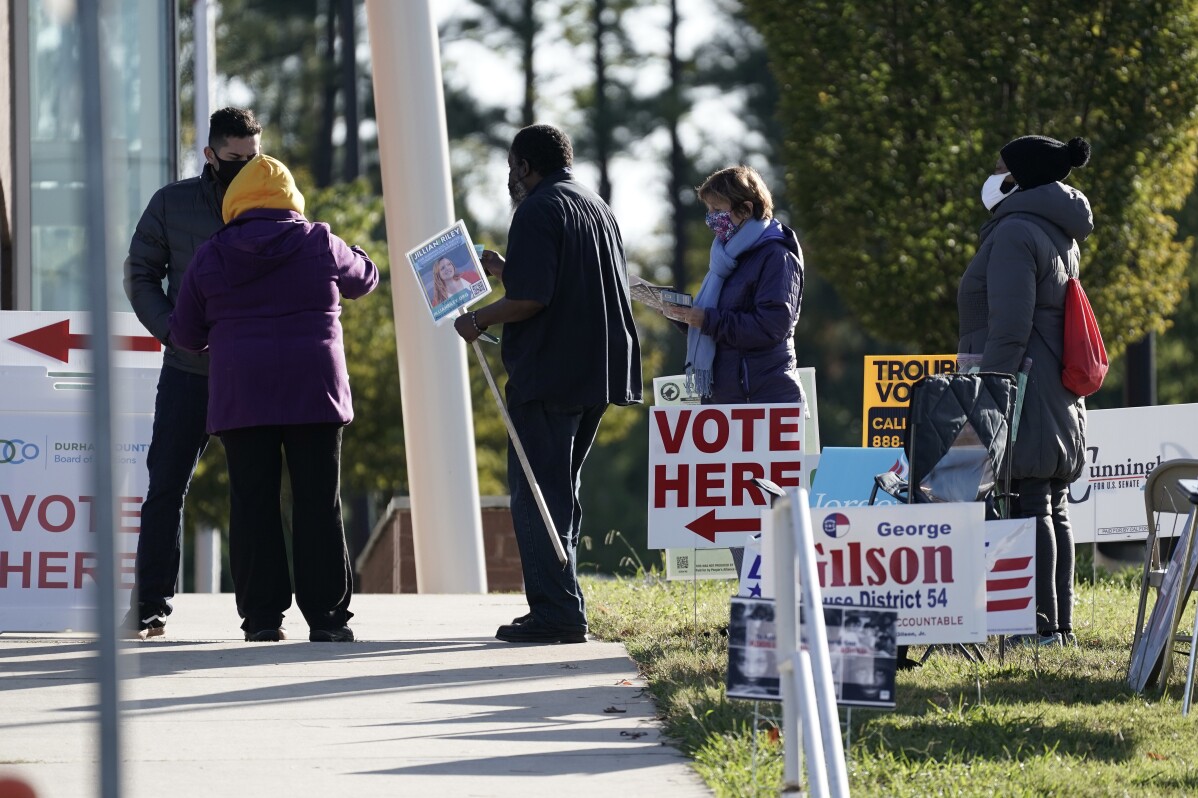 RALEIGH, N.C. (AP) — In 2020, North Carolina seemed the model of an evenly-divided swing state. Then-President Donald Trump barely won, beating Democrat Joe Biden by just over a percentage point. Meanwhile, the state's Democratic governor, Roy Cooper, won reelection by a relatively comfortable 5 points.
Even last year, as Republicans won two seats on the state Supreme Court, North Carolina's congressional delegation split evenly between Democrats and the GOP.
But it's the Republican Party that is making the decisions in the state, thanks to recent seat gains in the legislature and aggressive stances from GOP lawmakers. It has passed voting changes over Democrats' objections and this week could vote to wrest power from the governor over how the state's elections are run.
In both cases, Republicans are expected to override the governor's veto thanks to their legislative supermajorities.
Those major changes will come on the heels of similar power plays by the Republican legislative majority in Wisconsin, another battleground state where the GOP has lost a series of statewide races.
Republican lawmakers there are trying to fire the state's nonpartisan elections director and are considering impeaching a newly elected justice on the state Supreme Court. Her victory earlier this year gave the court a liberal majority that could strike down the Republican gerrymander that has given the party its outsized statehouse clout.Wisconsin voters have elected Democrats to all but one of the statewide executive offices that are decided on a partisan basis.
While both parties engage in gerrymandering, the dynamics in North Carolina and Wisconsin go beyond mere redistricting fights and offer a vivid illustration of how Republicans are attempting to maintain power regardless of their level of support among voters. The moves could give the GOP disproportionate influence over everything from partisan redistricting to the certification of next year's presidential election.
"The fact that these are both purple states is ironically what leads to the brass knuckles politics we see in Wisconsin and North Carolina," said Chris Cooper, a political scientist at Western Carolina University. In both states, he said, Republican politicians feel "they need to act because they could legitimately lose power."
Republicans in Wisconsin and North Carolina are aided by their parties' geographic distribution during statehouse elections. Democrats are clustered in two metro areas of each state — Milwaukee and Madison in Wisconsin, and Charlotte and the Raleigh-Durham area in North Carolina. That makes it more likely that even fairly drawn legislative districts covering urban areas will be overloaded with Democrats, leaving fewer of the party's voters to compete elsewhere and giving the GOP an edge in the remaining seats.
In North Carolina, even with the congressional delegation splitting evenly last year, Republicans won close to a supermajority of seats in the state legislature. They achieved that status this year when a Democratic House member switched her party.
Michael Bitzer, a political science professor at North Carolina's Catawba College, said less than 15% of the precincts were competitive statewide in 2022.
"It doesn't take much creativity to tilt districts one way or another," he said.
The GOP-controlled North Carolina General Assembly had tried to tilt districts more aggressively, drawing maps that favored them even more. Their plan was struck down by the Democratic majority on the state Supreme Court as an illegal gerrymander.
But Republicans are now in the majority on the court, which has signaled that the legislature is clear to draw the districts to more aggressively favor the party next year. That could lock in their supermajority status for several more election cycles.
That's occurring as the legislature muscles through two election bills that are propelled partly by Republican voters' lingering beliefs of Trump's lies that voter fraud cost him the 2020 election. One bill would end the state's three-day grace period for mailed ballots arriving after Election Day and loosen poll-watching rules in a way that critics worry could lead to intimidation of voters.
The other is potentially more consequential. It would strip the governor of the power to appoint members of the state election board and give that authority to the legislature.
Bill proponents say having leaders of both major parties picking equal numbers of board members would promote bipartisanship and consensus election policies.
But critics say having a board split evenly between the two parties would lead to gridlock, creating a situation where the stalemates would be settled by the Republican-controlled legislature or the Republican-dominated courts — a possibility that could include next year's presidential contest.
The legislation also could lead to the possible ouster of the state's respected elections director just months before the presidential election. There have been no widespread problems or concerns with voting in North Carolina under her watch.
"I've spoken out against these moves that are not about election security," Cooper told reporters this past week. "They are only about keeping and gaining power for Republicans."
Republicans contend the legislature should have more supervision of voting and other key regulatory functions. A bill already vetoed by Cooper would erode his appointment powers to boards that set electricity rates, make environmental policies and build roads.
"The legislature is the elected body closest to the people of North Carolina and has the ability to recruit a qualified, diverse roster of appointees," Republican state Sen. Warren Daniel, a sponsor of the broader appointments bill, said recently.
That's been a theme of North Carolina governance for centuries. The state has stood out for having an unusually strong legislature and weak governor, who was the last in the nation to be able to veto legislation, only gaining that power in 1997.
"Our state was founded with the notion that the legislative branch would be the branch with the most authority," House Speaker Tim Moore told reporters in June. "Our state's not set up with three separate co-equal branches. It was clearly contemplated and spelled out in the (state) Constitution that the legislative branch was to have the most authority because it's the closest to people."
That stands in sharp contrast with Wisconsin, where until recently the Legislature acted like a fairly typical law-making body. But since Republicans won the statehouse in 2010 and drew heavily gerrymandered maps that guaranteed their party's control of both chambers, the Legislature has become increasingly confrontational with the states' Democratic governor, Tony Evers.
Republican lawmakers blocked Evers from installing many appointees on state boards. Last week, the state Senate voted to fire the state's nonpartisan election director, drawing an immediate legal challenge. After voters overwhelmingly elected a Democratic-backed justice to the state Supreme Court earlier this year, flipping the majority from conservative to liberal for the first time in 15 years, the Legislature threatened to impeach her — even before she had heard a case.
Last week, Assembly Speaker Robin Vos offered to drop the impeachment if Democrats agreed to a new redistricting process he cast as nonpartisan, something Evers rejected as a sham proposal. To Dale Schultz, a former Republican state senator, the sharpness of Evers' rejection symbolized the depths to which Wisconsin politics have plunged.
"Nobody wants half a loaf; they'd rather starve," Schultz said. He reserved most of his scorn, however, for the Legislature's maneuvers.
"We see increasingly desperate measures to hang onto power," he said.