By some measures, Jacksonville was making strides to emerge from its racist past. But the killing of three Black people by a young, white shooter was a painful and startling reminder that the remnants of racism still fester in the Florida city.
What happened Saturday in Jacksonville, said 79-year-old longtime resident Rodney Hurst, "could have happened anywhere, except it did happen in Jacksonville."
The shooting occurred as the community prepared to commemorate what is known as Ax Handle Saturday, when a white mob used baseball bats and ax handles to club peaceful Black demonstrators protesting segregation at a downtown lunch counter on Aug. 27, 1960. Police initially stood by but joined the white mob when the Black group began fighting back. Newspaper reports at the time said at least 62 people — 48 of them Black — were arrested for fighting and inciting a riot.
Hurst, who was 16 when the violence erupted, has been encouraged by progress following the Civil Rights Movement, but he worries that racism has again become normalized. Hurst blames dog whistles from Republicans, especially former President Donald Trump, who is again riding the politics of white grievance in his bid to return to the White House.
Even so, he said, "Jacksonville did not need anybody to help its racism along."
Jacksonville Sheriff T.K. Waters said notes left by the 21-year-old shooter made it clear he was targeting Black residents of a predominantly African-American neighborhood.
He fatally shot Angela Michelle Carr, 52, as she sat in her car and chased A.J. Laguerre, 19, through a Dollar General store before shooting him. The third victim, Jerrald Gallion, 29, was killed as he entered the store.
Then the gunman killed himself.
Ryan Palmeter used an AR-15 style semi-automatic rifle and a Glock handgun, Waters said. He bought both weapons legally earlier this year despite his involuntary commitment for a 72-hour mental health examination in 2017.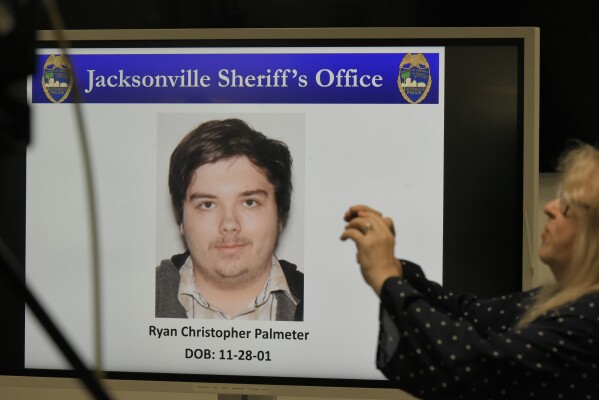 A photograph of shooter Ryan Christopher Palmeter is shown on a video monitor during Sheriff T.K. Waters' press conference at the Jacksonville Sheriff's Office headquarters building in Jacksonville, Fla., Sunday, Aug, 27, 2023. (Bob Self/The Florida Times-Union via AP)
Palmeter sent statements to federal law enforcement and the media suggesting his attack marked the fifth anniversary of a shooting at a video game tournament in Jacksonville that killed two people. That assailant also killed himself.
Somewhat puzzling is the apparent lack of a racial motive in the shooting five years ago, leaving questions about why Palmeter cited the attack in his writings.
Jacksonville is home to nearly 1 million people, about a third of them Black, just south of Florida's border with Georgia. The city is still coming to terms with its Southern heritage while trying to become more cosmopolitan in the shadows of the state's other major cities: Miami, celebrated for glitzy nightlife and inviting beaches, and Orlando, home to the world-renowned Disney World and Universal theme parks.

Residents gather at a prayer vigil for the victims of a mass shooting a day earlier, in Jacksonville, Fla., Sunday, Aug. 27, 2023. (AP Photo/John Raoux)

A woman attending a vigil for the victims of Saturday's mass shooting bows her head in prayer Sunday, Aug. 27, 2023, in Jacksonville, Fla. (AP Photo/John Raoux)
In recent years, there were signs Jacksonville was changing, and it might still be.
Jacksonville elected its first Black mayor in 2011. A couple years later, another watershed moment unfolded when a coalition of activists succeeded in persuading the school board, after years of failed attempts, to rename a high school honoring Nathan Bedford Forrest, a Confederate general and the first grand wizard of the Ku Klux Klan.
Since then, the city has continued to sever ties to the racist past by removing a Confederate soldier statue atop a memorial in a park bordering City Hall. The move was finalized by Jacksonville's former mayor, a Republican who once served as his party's statewide chair.
Donald Trump took Duval County in the 2016 presidential election. Two years later, a Black Democratic candidate running for governor, Andrew Gillum, won the county but narrowly lost statewide to now-Gov. Ron Desantis.
In 2020, Joe Biden carried Duval County thanks to a heavy turnout from Black voters — the first time a Democratic presidential candidate has won the county since Jimmy Carter in 1976.
Earlier this year, Democrat Donna Deegan, who is white, was elected mayor of Jacksonville. Waters, who is Black and a Republican, took the helm of the sheriff's office in January.
"It feels some days like we're going backward," Deegan said through tears Sunday while addressing a congregation at St. Paul AME Church, 3 miles (4.8 kilometers) from the site of the shooting.