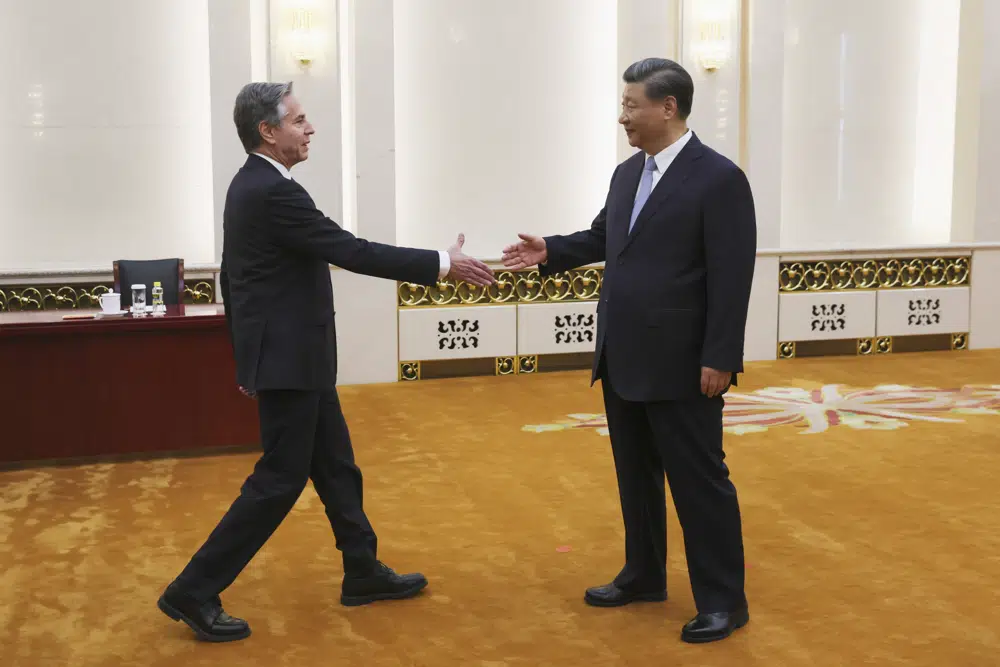 BEIJING (AP) — China on Wednesday called comments by U.S. President Joe Biden referring to Chinese leader Xi Jinping as a dictator "extremely absurd and irresponsible," as a new rift threatened to upset tentative efforts to stabilize the relationship between the two countries.
The clash of words comes just over a day after Secretary of State Antony Blinken concluded a visit to Beijing that sought to break the ice in a relationship that has hit a historical low. While both sides saw those talks as productive, they did not result in any significant breakthroughs beyond an agreement to return to a broad agenda for cooperation and competition.
Biden, at the fundraiser on Tuesday night, said Xi was embarrassed over recent tensions surrounding a suspected Chinese spy balloon that was shot down by the Air Force over the East Coast.
"That's a great embarrassment for dictators. When they didn't know what happened," Biden said.
Foreign Ministry spokesperson Mao Ning, responding to a question about Biden's remarks, said the comments at a fundraiser in California "go totally against facts and seriously violate diplomatic protocol, and severely infringe on China's political dignity."
"It is a blatant political provocation. China expresses strong dissatisfaction and opposition," Mao said at a daily briefing.
"The U.S. remarks are extremely absurd and irresponsible," Mao said.
Mao reiterated China's contention that the balloon was for meteorological research and had been accidentally blown off course.
"The U.S. should have handled it in a calm and professional manner," she said. "However, the U.S. distorted facts and used forces to hype up the incident, fully revealing its nature of bullying and hegemony."
Biden has previously used the term dictator, along with war criminal, to refer to Russian President Vladimir Putin over his country's invasion of Ukraine.
While Xi heads a country formally named the People's Republic of China, he faces no limits on his terms as head of state, commander of the military and leader of the ruling Communist Party, which brooks no challenges to its authority.
Blinken's visit, during which he met with Xi, was aimed at easing tensions between the two superpowers.
The trip was originally scheduled for February but was put on hold after the balloon incident. While the visit marked a return to high-level contacts between the sides, China continues to refuse talks between their militaries.
In recent days, the U.S. says Chinese warplanes and naval ships have maneuvered in ways that threaten their U.S. counterparts in the Taiwan Strait and South China Sea, despite agreements between them on protocols for avoiding such incidents.
During Blinken's visit, China reiterated its strong objections to U.S. support for the self-governing island democracy of Taiwan, which Beijing claims as its own territory. The U.S. has also sought to block China's access to cutting-edge computer chip manufacturing technology that could be used for military purposes and accused Beijing of stealing American intellectual property.
In his comments at the fundraising event for his 2024 re-election campaign, Biden said he believed the balloon incident had caught Xi unaware.
"That's what's a great embarrassment for dictators, when they didn't know what happened. That wasn't supposed to be going where it was. It was blown off course up through Alaska and then down through the United States. And he didn't know about it," Biden said. "When it got shot down, he was very embarrassed. He denied it was even there."
Despite their sharp political divide, the countries continue to have deep economic and cultural links. Bilateral trade passed $690 billion last year and an estimated 300,000 Chinese are believed to be studying in the U.S., shoring up American institutions that have come under financial pressure.
After meeting with Xi on Monday, Blinken acknowledged entrenched differences. "We have no illusions about the challenges of managing this relationship. There are many issues on which we profoundly, even vehemently, disagree," he said.
Xi sounded a similar note but suggested the rivalry could be overcome.
"The competition among major countries is not in line with the trend of the times and cannot solve the problems of the United States itself and the challenges facing the world," he told Blinken. "China respects the interests of the United States and will not challenge or supplant the United States. Similarly, the United States should also respect China and not harm its legitimate rights and interests."