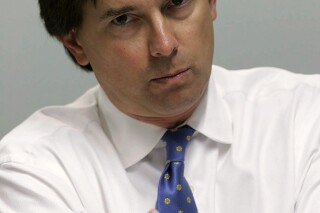 RALEIGH, N.C. (AP) — A veteran North Carolina trial lawyer has entered the Republican primary campaign for governor, pledging to spend millions in personal funds toward a race that's already full of fellow Republicans who got in months ago.
Bill Graham of Salisbury, who competed unsuccessfully for governor in 2008, said Wednesday he's trying again because he considers himself the candidate best able to break a dominant stretch of Democrats in a state where Republicans often have an advantage in statewide races.
Democrats have served in the Executive Mansion uninterrupted since 1993 save for a four-year stretch in the 2010s. Democratic Gov. Roy Cooper, who is term-limited and can't run in 2024, has endorsed Attorney General Josh Stein, who entered the race in January and has been the race's top fundraiser so far.
"We need a nominee who will have the resources, discipline and character needed to defeat the far-left Josh Stein in November," Graham said while releasing a campaign kickoff video. "I am that candidate, and my campaign will prove it."
Graham, a personal injury and wrongful death lawyer who's been involved in other business ventures and philanthropy, said he's investing "at least $5 million of his own resources" in the campaign, with advertising on statewide television to begin next week. Official candidate filing begins in early December for primary elections March 5.
Such an investment, along with any traditional campaign donations, would help him compete financially with GOP gubernatorial candidates that include Lt. Gov. Mark Robinson, State Treasurer Dale Folwell and former U.S. Rep. Mark Walker.
Robinson reported raising $2.3 million during the first half of this year and holding more than $3 million entering July, the latest figures available. Stein's campaign raised almost $6 million during the same period and had over $8 million in cash. And Folwell revealed in July that he had lent his campaign $1 million.
While Robinson has been considered the GOP frontrunner, with former President Donald Trump pledging to endorse him, some GOP officials have questioned if his history of harsh comments about LGBTQ+ issues and other topics could hurt his chances in a general election.
Other Republican gubernatorial candidates include former state legislator Andy Wells and retired health care executive Jesse Thomas. Recent state Supreme Court. Associate Justice Mike Morgan announced his bid for the Democratic nomination last month.
Graham, 62, is a former local prosecutor whose working has included suing the federal government on behalf of Marines at Camp Lejuene and their families who were exposed to contaminated drinking water and developed cancer in some cases. He once worked for U.S. Sen. Jesse Helms on the Senate Agriculture Committee.
Graham entered the state's public political scene in the mid-2000s, founding North Carolina Conservatives United and leading an effort to cut the state gasoline tax.
Graham finished third in the May 2008 GOP gubernatorial primary against then-Charlotte Mayor Pat McCrory, receiving 9% of the vote.
Graham's campaign platform includes eliminating the local 2% tax on groceries, creating tax credits for first-time homebuyers, seeking the death penalty for fentanyl dealers and human traffickers, and creating a "North Carolina Family Values Commission."